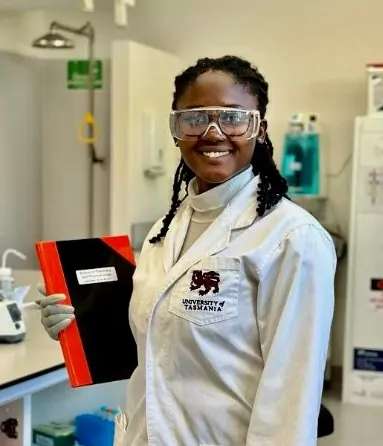 Lagrange Nahimana
She/Her
The Chemistry Inside You
I'm from: Bujumbura, Burundi, East Africa
Current Location: Hobart, Tasmania
Position: Master's Student, School of Pharmacy and Pharmacology, UTAS
Field of research/work: Pharmaceutical Sciences
Lagrange's Notable career moments
I was in Grade 11 and studied Science with amazing teachers in Chemistry and Biology.

Started uni in India, because they produce many medications.

Working in Pharmacy inspired me to know more about medications.

Chose to study in Australia because of the well-equipped Schools Laboratories.

Came to Tasmania to learn more about medication development.
About Lagrange Nahimana
Did you know that there is chemistry inside of all living things, including you?!
Plants and animals and people are full of chemistry – and we can even use one to improve the life of another.
I became interested in medical sciences when I observed how dedicated my mother was to enhancing people's lives through her profession as a nurse. I was aware of the difficulties she encountered due to the shortage of medication in our home country of Burundi, in East Africa. While considering what could be done regarding the lack of medication, I came across one of the quotes from Mahatma Gandhi that says, " You must be the change you wish to see in the world".
That is when I realised the solution was inside of me.
I wanted to know more about medications and this led me to study Pharmacy in India where many drugs are made. It was a wonderful experience and one of the most interesting parts was learning what the medication does to the body (Pharma-co-dynamic). Another was learning what our bodies do to the medicines we put in (Pharma-co-kinetics). For instance, before a pain relief medication relieves pain in the body, the liver breaks down the medication with the help of enzymes and from there it gets distributed to the target part of the body.
Have you ever seen a tall field of white poppy flowers growing in Tasmania? Many plants produce chemicals which can be used in medicines, including those poppies. They are used in pain relief medications, and it is one of the reasons I am excited to be in Tassie, to learn how to do medicines research for the pharmaceutical industry.
My study is using a newly developed approach to discover medicines. We get a deep understanding of what the medicine molecule can do inside a living organism in order to understand and prevent unexpected side effects. We also explore how to improve the quality of medicine molecules. The beautiful part of this is checking the physical and chemical changes of molecules. I use a microscope to detect the formation of particles that are not visible with the naked eye (physical change detection), and I use a high-performance machine to test for evidence of chemical changes.
Lagrange's Photo Gallery