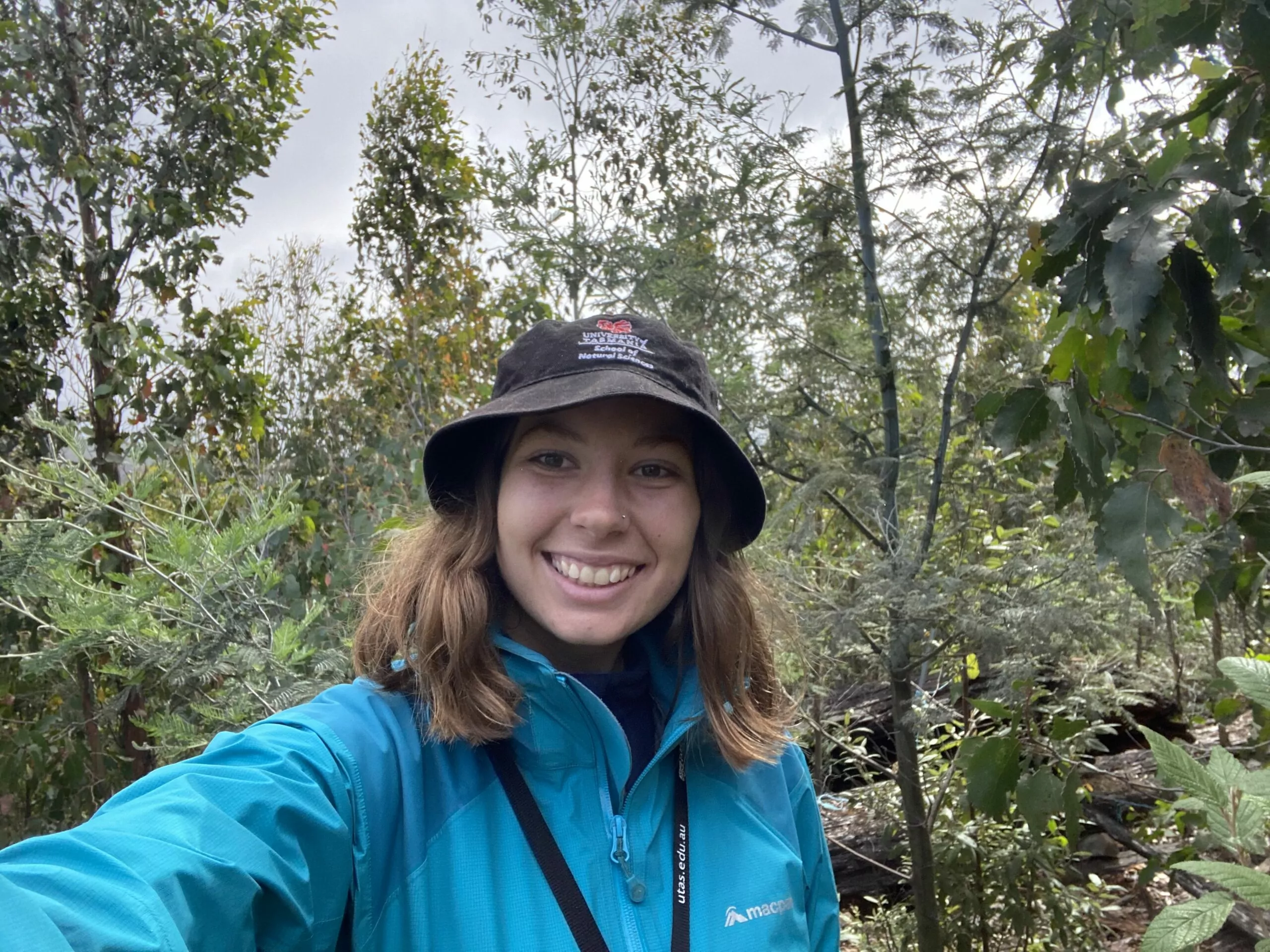 Katya Bandow
She/Her
Planting the Seeds of Curiosity
Current Location: Hobart, Tasmania
Position: PhD Candidate, School of Natural Sciences, UTAS
Field of research/work: Plant Science
Ecology
Katya's Notable career moments
I grew up in North Queensland surrounded by the Great Barrier Reef.

I had some amazing female science teachers that encouraged me to pursue my passion in studying the environment.

Moved to Tasmania and fell in love with the amazing wilderness and the plants here.

Did my first uni research project looking at plant fossils.

Did another project studying how trees interact with one another..

Worked as an ecologist/ botanist at a consultancy.

I started my current research in botany looking at pine trees around the world!
About Katya Bandow
I grew up thinking plants were just green blobs.
I later learned that this is a very common thing, called Plant Awareness Disparity (PAD) or plant blindness. For this very reason, plant conservation initiatives receive considerably less funding than their animal counterparts.
In reality, plants are fundamental to human society; they are food, fibre, medicine and timber. They are the building block of all land ecosystems, provide habitat for animals and can improve the mental and physical health of humans. This is the reason I was drawn to botany.
Learning about the wonderful world of plants has changed my outlook on life and brings me hope for our future in the face of climate change. I hope that throughout my career I can bring awareness and appreciation for plants and the fundamental role they play in our lives and sustaining the earth.
We are extremely lucky to live in Tasmania, home to some of the most fascinating, unique and beautiful species of plants in the whole world. We have Australia's only native deciduous tree (fagus), the world tallest flowering plant (Eucalyptus regnans) and potentially the oldest plant in the world (Lomatia tasmanica). I could go on and on about the wonders of Tasmanian flora, so you'll just have to take my word for it: our plants are awesome.
While I am still relatively new to botany, I have had a lot of different experiences working with plants. During my university degree, I got to work with fossil plants, and spent a year investigating how plants interact with each other. I have worked for the university studying eucalypt forests and alpine grasslands and have got to work with some really neat field and lab experiments. This past year I have been working in the industry as a plant ecologist where I went out into the field to search for rare and threatened plants. And now, I am embarking on a new journey starting my PhD researching conifers (pines)!
In my free time you will find me hiking and looking for rare and wonderful plants in Tasmania's wilderness.
From not even noticing plants, to having my whole career (and let's face it… personality) revolving around plants, I am so excited to share with you the wonderful world of these green blobs.
Katya's Photo Gallery