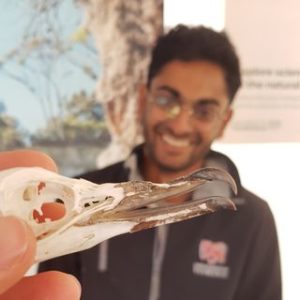 Rahil Amin
Part-time Model(ler)
PhD Candidate, Community Ecology
College of Sciences and Engineering,
University of Tasmania
Why do different bird species have different colours and songs? And can they understand each other?
I study biological communities (meaning different species living in same place), strolling about in the Tasmanian wilderness, counting how many different animals live there and trying to understand why they're there. I grew up in western India, and although nature was always magical to me, I never wanted to grow up to be a scientist. In fact, I always wanted to be a train engineer or bass player. It wasn't until after high school that my curiosity about birds, their songs and the science behind it turned into fascination.
So, I flew to Tasmania to study zoology at the University of Tasmania. I was immediately intrigued by how different Tasmanian birds were compared to the birds in India and I wondered whether they would understand each other's songs. My fascination with birds and nature turned into obsession when I got involved with a study on the Yellow-tailed Black-cockatoo – the big black noisy, beautiful birds – and what might happen to them under climate change. I realised that by using science, I can help save birds and nature for future generations to come.
Now, I'm trying to understand why the tropical rainforest has more animals than the African desert. If we can understand the processes that allow life to continue as it is, we can work towards conserving life on earth.
---
Follow Rahil on Twitter: @RahilJAmin
---